Colorado Avalanche superstar Nathan MacKinnon has just three points and is a minus-2 through four Stanley Cup Final games… yet the Avs are up 3-1 in the series and are massive favorites in terms of Stanley Cup odds as they look to clinch the series on home ice.
While his scoring numbers may leave a lot to be desired, his play on the ice tells a very different story as Nate has been a dominant force throughout the series.
With Game 5 seeing him on the verge of claiming his first Stanley Cup, we're looking at our favorite Nathan MacKinnon props for Friday. 
Stanley Cup Final 2022 Nathan MacKinnon player props for June 24
Picks made on 6/23/2022 at 1:48 p.m. ET.
Click on each pick to jump to the full analysis.
Nathan MacKinnon Game 5 player props
The odds widgets below represent the best odds currently available for each betting market at regulated sportsbooks.
Nate stays nasty
MacKinnon may not be piling up points in the SCF, but it's not due to a lack of pressure. Regardless of who lines up across from him, when No. 29 is on the ice the puck tends to be in the opponent's zone.
MacKinnon split most of his even-strength time against the Lightning's top six through the first two games of the series. In Game 1, he had a Corsi For percentage of 61% or better against every one of those forwards, and in Game 2 none of them managed even a single shot attempt when Nate was on the ice.
When the series shifted to Tampa, MacKinnon spent almost 80% of his even-strength ice time against the Anthony Cirelli/Alex Killorn/Brandon Hagel line, which is the Bolts' top shutdown forward group. MacKinnon responded with a CF% better than 70% against that group in Game 3 (despite the lopsided Colorado loss) and had the shot generation advantage in Game 4 as well.
And it's not just that Nate is getting shots — he's getting them from prime areas: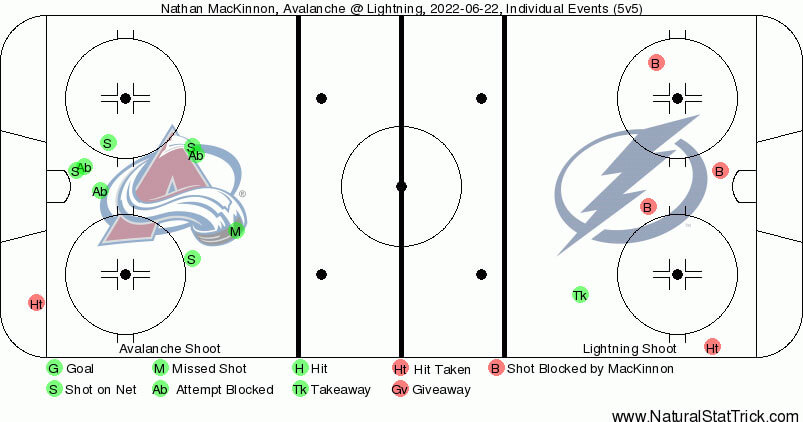 In Game 4, all of MacKinnon's even-strength shots (and shot attempts) came between the hash marks, with half of them in the high-danger "home plate" area.
It's just continued a trend where he's played 72:40 at even strength in the series, with a 67.14 CF% on the ice, a 46-27 advantage in scoring chances for his team, with 11 total shots on goal — then there's the power play, where MacKinnon has added another nine sog this series, giving him 20 total sog through four games.
In the first two games, he played a bit more of a defensive role against the Nikita Kucherov/Steven Stamkos/Ondrej Palat line. But with Nazem Kadri returning in G4 — and doing a fantastic job keeping that trio quiet alongside Gabriel Landeskog and Val Nichuskin — Avalanche coach Jared Bednar may opt to utilize the last change at home to continue letting Nate focus on creating offensive chances against the Cirelli/Killorn/Hagel line (or even Tampa's third line).
MacKinnon has topped 4.5 shots on goal in six of his last seven postseason games and is averaging 5.77 sog/game over the course of the playoffs. With a chance to hoist the Cup on the line, I'm banking on him going Over this Stanley Cup prop again as he lays it all out to win.
Pick: Over 4.5 shots on goal (-130)
Mile high man advantage
The Colorado power play is truly the stuff of nightmares.
MacKinnon and Cale Makar attacking with a blend of otherworldly speed, precise passing, and lethal shots. Kadri and Rantanen (aka the league's 14th and 19th-highest point totals this season) providing "secondary" options. And then Landeskog causing a ruckus as a net-front presence.
It's truly a pick-your-poison type of situation, but it all seems toxic when you see that group make things look so easy.
CALE X2 ????????

His second of the third and it's 7-0 ???? pic.twitter.com/tQpaEXDQCx

— B/R Open Ice (@BR_OpenIce) June 19, 2022
The Colorado man-advantage unit is clicking at a 34.5% success rate in the playoffs — scoring at least once in 13 of 18 postseason games so far — and has struck gold in each of the four games against Tampa Bay (6-for-13 overall).
Two of MacKinnon's three SCF points have come on the power play, but he's been generally unlucky in getting on the power-play scoresheet these playoffs. After logging 27 power-play points (seven goals, 20 assists), with a 72.97 individual points percentage in 65 regular-season games, Nate is down to just a 52.94 IPP with nine ppp (six goals, three assists) in 18 playoff games.
The glaring standout there is that his assist ratio is way down, which could be attributed to a couple things:
A) He's shooting much more. He had 19.9 sog per 60 minutes on the power play in the regular season… and that ballooned to 33.9 sog/60 in the playoffs. Furthermore, he has 2.25 pp shots per game vs. Tampa, compared to 1.93 per game in his previous 14 postseason contests.
B) He's not getting luck from teammates capitalizing on rebounds, as his nine power-play rebounds created in the playoffs is easily the most in the league — but they're not resulting in goals.
His +130 odds suggest a 43.48% implied probability of him getting a ppp in Game 5. Considering that even with his current bad luck, MacKinnon is still around a 50% chance to cash in a point on a lethal (and red-hot) unit where he is still a key focal point.
This doesn't mean Nate is suddenly going to stop shooting as much… it just means there's solid value available for his efforts to be rewarded.
Pick: Over 0.5 power-play points (+130)
Floodgates have opened?
How often have we seen this before: A superstar player struggling to get a goal, even though their play on the ice deserving of a few. Then they finally break through and bammo — the goals come in bunches.
MacKinnon isn't entirely "struggling" to score goals (he leads the team with 12 in the postseason) but he went into Game 4 having yet to score in the Stanley Cup Final, despite having an xGF of 1.28 — with 19 individual scoring chances and three individual high-danger chances — with questions as to why with 43 goals in his previous 82 games in 2021-22, he couldn't score on the biggest stage?
Then all those questions went away as Nate finally broke through with a goal on Wednesday… even if it wasn't off an actual shot.
Playoff Nate.#GoAvsGo pic.twitter.com/vp6qVaSrUo

— Colorado Avalanche (@Avalanche) June 23, 2022
Listen: Nobody asks how… they ask "how many." And you could see the weight came off MacKinnon's shoulders as he scored his first career SCF goal… and it wouldn't be surprising to see him score again in Game 5.
He's always been a high-volume shooter, as his shooting percentage this year was 10.7%, in the regular season, 11.5% in the postseason, and 10.1% for his career, but having an 0-fer (0-for-14, in this case) under the bright lights of the Cup Final would cause anyone to grip their stick a little tighter.
Now, that's behind him.
Plus Lord Stanley's Cup is in his home arena.
Plus he can get good offensive matchups with the Avs having last change.
Plus he will have the green light from Bednar to continue piling up shots.
Yes, it's mostly a gut feeling that Nate will deliver again… but he's so talented (and getting all the opportunities) I can't say no.
Pick: Over 0.5 goals (+144)