The Tampa Bay Lightning got a much-needed win — and offensive outburst — in Game 3, shifting the Stanley Cup odds as it's now a 2-1 series.
Lightning captain Steven Stamkos was in the middle of the action, as he delivered two points, dominated the faceoff circle, and reminded everyone of his quality for the back-to-back champions.
The Bolts are still underdogs in the series and need a win in tonight's Game 4 to avoid a 3-1 series deficit — which will also require another big performance from the Tampa Bay captain.
Our free NHL picks break down how we expect him to perform under pressure… and our best Stanley Cup props focused on Stammer.
Stanley Cup Final 2022 Steven Stamkos player props for June 22
Picks made on 6/22/2022 at 9:05 a.m. ET.
Click on each pick to jump to the full analysis.
Best Game 4 bonuses
If you're signing up for a new sportsbook for the Stanley Cup Final, here are two of the best bonuses* available:
A) Steven Stamkos to score a goal in regulation BOOSTED to +187 (was +175) at bet365! Claim Now
B) Steven Stamkos, Nathan MacKinnon, Mikko Rantanen and Cale Makar to all record a point BOOSTED to +300 (was +220) at FanDuel! Claim Now
*Eligible USA locations only
Steven Stamkos Game 4 player props
The odds widgets below represent the best odds currently available for each betting market at regulated sportsbooks.
Captains share…
When you think of Stamkos, the first thing that comes to mind (and rightfully so) is the massive one-timer he can unleash at any time.
He still has that lethal shot, but Stamkos has been a much more pass-first player this season, recording a career-high 64 assists in the regular season. He has seven apples in the playoffs so far, and while five of them are secondary assists, his beautiful pass to set up Ondrej Palat in the first period of Game 3 showed just how good of a playmaker he can be.
ONDREJ PALAT, EVERYBODY ?? pic.twitter.com/2tjG8K5HRX

— Tampa Bay Lightning (@TBLightning) June 21, 2022
If that play looks familiar… that's because Tampa Bay loves to run that little overlap play — we just saw it in Game 1 — and the Bolts can pull it off when they can either get out in transition or have space to operate.
Neither had been much of a luxury for the Stamkos/Palat/Nikita Kucherov line through the first two games (mostly due to being hounded by Nathan MacKinnon, Gabriel Landeskog, Valeri Nichushkin, Cale Makar, and Devon Toews), but in Game 3 the Bolts were able to get Stammer & Co. against the Avs second line… with great results.
Primarily facing the Mikko Rantanen/Artturi Lehkonen/J.T. Compher trio, with more exposure to Erik Johnson and Bowen Byram on defense, Tampa Bay had a positive 5-on-5 Corsi For percentage with Stamkos on the ice.
Monday also saw Stamkos get 21:33 worth of ice time, his second-highest total of the postseason and well above the 17:09 and 14:18 he played in the first two games of the SCF.
With another game at home, where head coach Jon Cooper can play the matchups, and the Bolts' best players simply getting more time, we're banking on Stamkos' line again generating a couple of goals — with the captain getting at least one assist along the way.
Pick: Over 0.5 assists (+120)
…but shooters shoot
Let's not kid ourselves though. Just because we expect Stamkos to continue displaying strong puck movement, we know he's also going to keep ripping pucks at the net — especially seeing how shaky both Darcy Kuemper and Pavel Francouz were between the pipes for Colorado.
While Kucherov was noticeably more aggressive offensively at even strength in Game 3, taking four of his game-high six shots, Stamkos was just as engaged in even strength, filling up the stat sheet in general.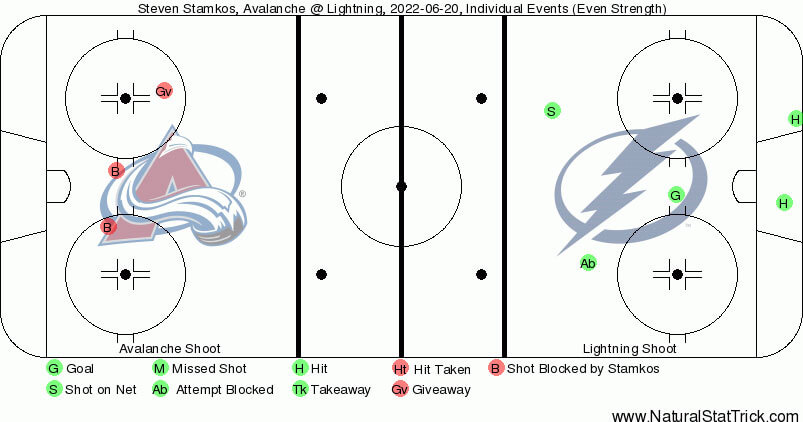 As you can see above, Stamkos was in on the forecheck, blocking shots on defense, and still managed three shot attempts (with a goal) at even strength. Where Stammer really let go was on the power play, where he had three shots on goal (he finished with five sog overall), as the focal point of the man advantage unit.
Stamkos may also have to carry a little more of the even-strength offense in Game 4 as well: Brayden Point is still expected to be out and Kucherov is a little banged-up after he suffered a lower-body injury late in the third period following a Devon Toews cross-check.
Coach Jon Cooper expects Kucherov to play, but he's more than likely to be less than 100%, meaning we could see the puck on Stamkos' stick more often on Wednesday — and that should mean more shots for a guy who averaged 2.97 sog per game in the regular season, has averaged 3.15 sog/game in the playoffs overall, and has 3.56 sog/game since the start of the Eastern Conference Finals.
Long story short: we like Stammer Over 3.5 shots on goal for Game 4.
Pick: Over 3.5 shots on goal (+120)
Stars collide
We're going to double-down on Stammer shooting tonight, by pairing him up in an old-fashioned duel with his Stanley Cup Final opponent's best forward… Nathan MacKinnon.
We expect to again see Stamkos and Nate's lines not going toe-to-toe tonight, so both should be able to continue generating offensive chances and shots on net. MacKinnon fired six pucks at Andrei Vasilevskiy in Game 3, he has at least four sog in six of his last seven games, and he averages 5.65 sog/game in the postseason.
Stamkos also has 23 shots over his last games at Amalie Arena, as he takes full advantage of getting the better home matchups, so we're going to take a player performance parlay with both star centers getting at least four shots tonight.
From a value standpoint, MacKinnon's individual sog total is 4.5, best priced at -125 — and the rare spots offering him at O3.5 sog is a ludicrous -430, which is an 81.13% implied probability of success.
This parlay lets us add even more juice on Stamkos' shot prop, by boosting it with what (based on the odds) is considered a bit of a layup.
Pick: Steven Stamkos and Nathan MacKinnon both Over 3.5 shots on goal (+210 at FanDuel)
Stanley Cup Final parlay
Did you know that if you played today's Stanley Cup Final props as a parlay, you could win $140.04 on a $10 bet?
Use our NHL parlay calculator to create your own parlays and see their potential payouts.