2022 NHL Playoffs Predictions : 1st-Round
MAY 2, 2022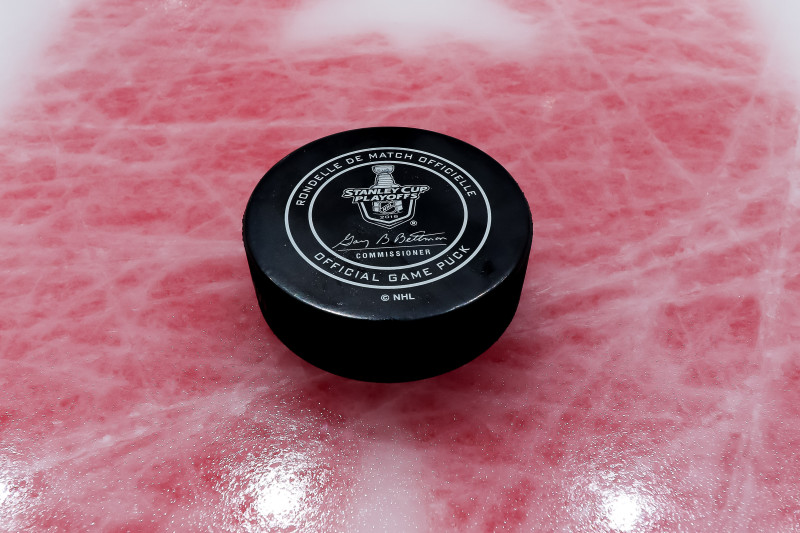 Jonathan Kozub/NHLI via Getty Images
Let the fun begin.
Bring on the intensity, the heart-stopping drama and the sheer excitement of the NHL playoffs.
Sixteen teams enter, but only one of them goes home with the best trophy in all of sports: the Stanley Cup.
Will the Tampa Bay Lightning complete the three-peat? Can the Presidents' Trophy-winning Panthers get it done in the postseason? Is it finally time for the loaded Avalanche to get it done when it matters most?
Our B/R NHL Staff got together for our first-round predictions for the 2022 NHL Playoffs.
Washington Capitals vs. Florida Panthers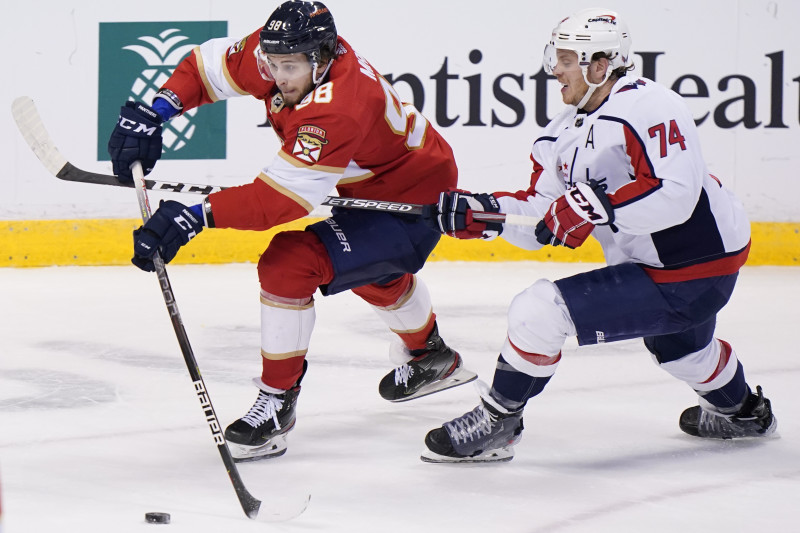 Wilfredo Lee/Associated Press
It's hard to believe that the Washington Capitals and Florida Panthers, who were division rivals from 1993-2013, are now only facing off in the Stanley Cup Playoffs for the first time.
There hasn't been much of an opportunity since the Panthers have made the playoffs just eight times in 28 seasons. That's quite the contrast from Alexander Ovechkin's Capitals, who have been a playoff fixture, if not contender, over the last 14 seasons.
Yet it is Florida that enters this matchup as the heavy favorite. Jonathan Huberdeau broke out with 115 points, while Aleksander Barkov did his thing with 88 points. Anthony Duclair (30 goals) and Carter Verhaeghe (24) proved that 2020-21 wasn't a fluke, and the team got massive performances from down the depth chart in rookie Anton Lundell and late bloomer Mason Marchment.
Florida's lethal offensive group was then supplemented at the trade deadline by Claude Giroux, who recorded 23 points in 20 games.
Defensively, the Panthers made notable gains. Aaron Ekblad flirted with the Norris Trophy conversation until an injury took him out of the race. Gustav Forsling and MacKenzie Weegar, who were major surprises last season, thrived again this year.
The big difference was at the end of the depth chart, as declining veterans Anton Stralman and Keith Yandle were replaced with a battalion of journeymen who didn't sink the team.
The Capitals, meanwhile, look like a shell of the team that won the 2018 Stanley Cup. They ranked 10th in the league in goals scored—good production but still far removed from the behemoth of firepower that used to give goaltenders nightmares. The power play in particular, ranked 21st by goals per 60 minutes, has fallen immensely.
Defensively, the Capitals were around league average, while head coach Peter Laviolette constantly rotated goaltenders Vitek Vanecek and Ilya Samsonov, practically begging one of them to earn the starter's spot for good. Both had some good moments throughout the season but were overall below-average.
Nonetheless, the Capitals have a couple of narrow paths to victory. Their power play (and offense) struggled largely because key players such as Nicklas Backstrom, T.J. Oshie, and Anthony Mantha each missed roughly half of the season.
And while Sergei Bobrovsky was a lot better this season than in the prior two, he's still proven mortal in ways he didn't during his Vezina campaigns. If the Capitals' top weapons can get hot at the right time and/or Florida's goaltending implodes, both easily imaginable scenarios, they could potentially steal this series. Otherwise, the Panthers should win a playoff series for the first time since 1996.
Prediction: Panthers in five
– Adam Herman
Boston Bruins vs. Carolina Hurricanes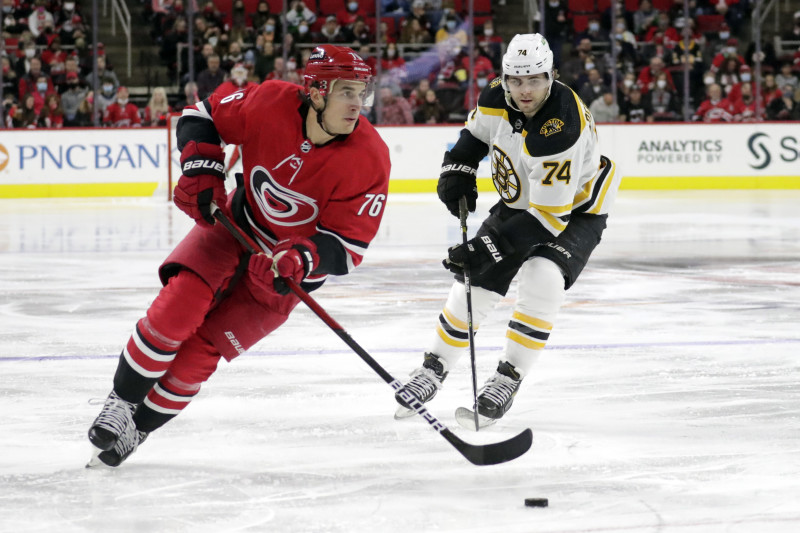 Chris Seward/Associated Press
For the third time in the last four years, the Carolina Hurricanes and Boston Bruins will square off during the Stanley Cup playoffs. These two teams are very familiar with each other, and what's that saying about familiarity?
Ah, yes—that it breeds contempt, of which there ought to be plenty once the puck drops in Game 1. If you are one of the few fans who love a "good" defensive contest, this will be appointment viewing for you, as these are two of the most stingy defensive teams in the league.
According to Natural Stat Trick, the Hurricanes and Bruins are first and third in shot suppression, respectively. Meanwhile, Boston's goals against ranks fourth, and Carolina's is first.
You might not know it based on how the regular-season meetings between these two squads played out, with Carolina taking all three outings by a combined score of 16-1. This is the postseason, though, and it's not like the battle-tested group in Boston will be intimidated by a few tough outings against the Hurricanes from a few months ago.
If anything, it'll be motivation for the likes of Patrice Bergeron and Brad Marchand.
Perhaps the most telling aspect of this series will be how Andrei Svechnikov and Sebastian Aho perform now that the heat of the playoffs is on. The former is one of the most skilled young forwards in the NHL, but space becomes difficult to come by in the postseason, especially against the Bruins. How will he respond to the relentless forechecking and pressure?
Then there's Aho, who's barely made a peep in the series that these two teams have already completed. Whether or not he'll be able to make an impact might be the determining factor of this first-round matchup. Boston's top-six will bring it, and Charlie McAvoy's playoff gear is scary.
Game 1 will be interesting as these two defensive juggernauts try to set the tone early, and if the Hurricanes win, it could represent a sort of passing-of-the-torch from one analytics darling to another.
Prediction: Hurricanes in seven
Pittsburgh Penguins vs. New York Rangers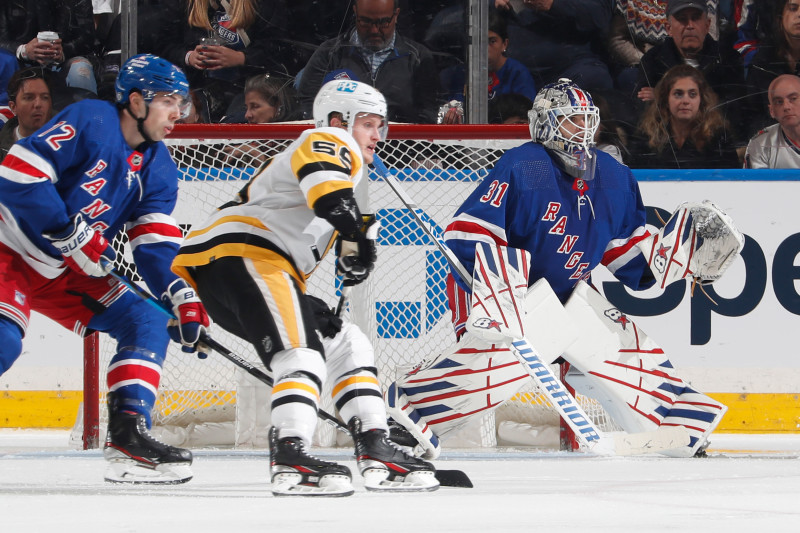 Jared Silber/NHLI via Getty Images
The New York Rangers enter this series as a rising club emerging from a three-year roster rebuild. Facing them are the veteran-laden Pittsburgh Penguins, who have qualified for the postseason for the 16th consecutive season.
Led by Sidney Crosby, Evgeni Malkin, Kris Letang, Jake Guentzel and Jeff Carter, the Penguins have plenty of seasoned scoring punch. Their 3.28 goals-per-game ranked 11th overall, giving them a slight edge over the Rangers, who sat 16th at 3.05 in that category.
The Rangers, however, are no slouches in the scoring department. Their offense feature stars such as Artemi Panarin, Mika Zibanejad, 52-goal scorer Chris Kreider and defending Norris Trophy winner Adam Fox.
Both clubs did well on the penalty kill, with the Penguins' 84.4 percent success rate ranking as the league's third-best while the Rangers were seventh at 82.3 percent. However, the Blueshirts were much better with the man advantage, sitting fourth at 25.2 percent compared to the 19th overall Penguins (20.2 percent). Meanwhile, the Pens were strong on the draw with a faceoff win percentage of 51.1 compared to the Rangers' 48.1.
Goaltending could prove the decisive factor. The Rangers have the second-lowest goals-against per game (2.49) thanks to Igor Shesterkin, who leads all NHL starters with a 2.07 goals-against average and a .935 save percentage. The Penguins are fifth (2.71) thanks to Tristan Jarry, but he remains sidelined as this series begins with a lower-body injury. Without their starter, the Penguins could be in trouble.
The Penguins may have a considerable postseason background, but they haven't won a playoff series since 2018. The Rangers are a fast, up-and-coming club with two solid scoring lines and a potential Vezina Trophy-winner in Shesterkin between the pipes. Those factors should give them the edge in this series.
Prediction: Rangers in six
Tampa Bay Lightning vs. Toronto Maple Leafs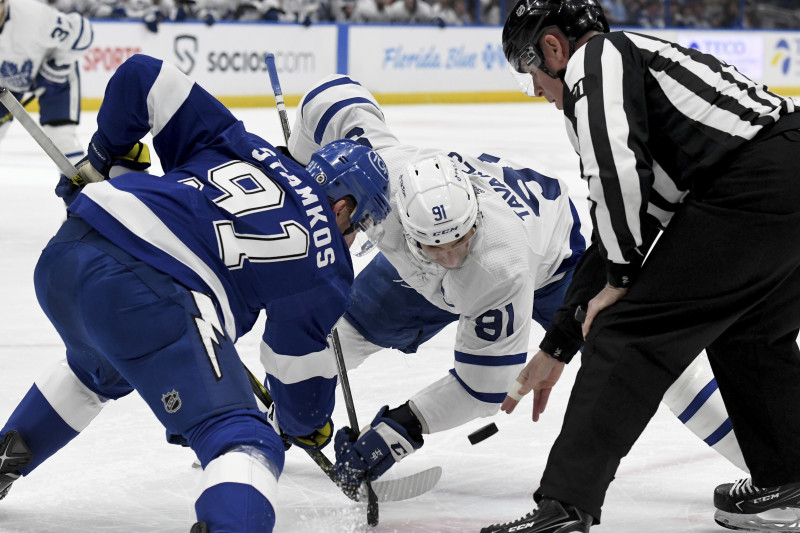 Jason Behnken/Associated Press
Neither the Toronto Maple Leafs nor the Tampa Bay Lightning will feel pleased with this first-round matchup. Toronto's 115 points rank fourth overall in the NHL, while Tampa's 110 rank eighth. These two teams would be worthy opponents for a Stanley Cup Final. That these two have to face off this early is a travesty for both.
This iteration of the Lightning is a notable drop-off from ones that repeated as Stanley Cup champions, yet they are still an extremely good team. Captain Steven Stamkos set a career-high in points with 106. Nikita Kucherov remains an elite offensive player, while Victor Hedman's stalwart two-way play (85 points!) would have made him a Norris favorite in almost any other season. Andrei Vasilevskiy ranked second in goals saved above expected.
Look elsewhere, though, and cracks are beginning to show. Ryan McDonagh, a lynchpin who has covered up depth deficiencies in the past, had a letdown season. Brayden Point, with only 58 points in 66 games, dropped the "super" portion of his stardom.
The overpowering third line of prior seasons has been replaced with a capable but less intimidating group. The Brandon Hagel acquisition from Chicago has not worked out so far. He has just seven points in 22 games.
The Leafs were a dominant albeit imperfect team. Auston Matthews, the likely Hart Trophy Winner, led the league with 60 goals while also playing a robust defensive game. Mitch Marner is entering this postseason with the most confidence he's ever had.
They ranked fourth in five-on-five expected goals percentage and fixed their special teams. Mark Giordano was brought in at the deadline, and he has been a savior on defense.
Goaltending remains a huge question mark, with Jack Campbell playing like a Vezina-caliber goaltender in the first half of the season, then nosediving in the second half. Career minor leaguer Erik Kallgren has been out of his depth after being called into action with veteran Petr Mrazek struggling immensely.
Crease aside, this Leafs team has no discernible holes. Remove the baggage, and they would be clear series favorites. In fact, both Money Puck and the Athletic estimate the Leafs win this series two out of every three times.
But oh boy, the baggage. The Leafs, who have not won a playoff series since 2004, are a fragile group. The entire city of Toronto will panic at any hint of turbulence, and the players will have a tough time ignoring it.
Contrast that with an experienced Tampa Bay group that won't get rattled by anything. If the Leafs can finally persevere through immense pressure and the goaltending holds serve, they have really strong odds of winning this series. Those are two big "if's."
Prediction: Toronto in 6
Nashville Predators vs. Colorado Avalanche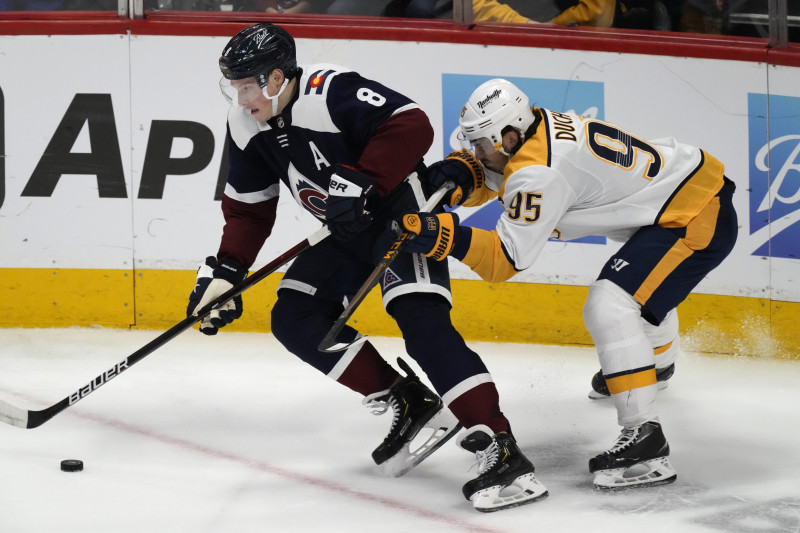 David Zalubowski/Associated Press
The Nashville Predators have overachieved this season. They weren't an en vogue team to make it through to the Western Conference bracket, but a huge season from Roman Josi combined with bounce-back campaigns from Matt Duchene and Ryan Johansen propelled them to the playoffs. Their reward?
A date with the buzzsaw Colorado Avalanche.
It's tough to find much positive ground for the Predators to stand on in this series. Especially if starting goalie and potential Vezina Trophy finalist Juuse Saros can't play, which, according to reports, will be the case.
Taking on Colorado at full strength would have been a tall enough order for Nashville. Without their No. 1 netminder, though, taking four games off of this Avalanche team seems nigh impossible. They play the contests for a reason, of course, and this series could take on a different tone if the Preds steal Game 1 or Game 2 on the road.
They have the physicality that could rattle some of the Avalanche's more smooth-skating stars, but at this juncture, this isn't Nathan MacKinnon or Nazem Kadri's first rodeo. They will be prepared for the wattage to get turned up now that the playoffs are here.
In reality, this series feels like a speed bump more than anything for perhaps the best team that has been assembled during the salary cap era in Colorado. Whatever the Predators bring to the table, the Avalanche simply has more of it.
Josi has been a miracle worker from the blue line all season long, but the same can be said for Cale Makar. The Predators can push the pace offensively when needed, but the Avalanche scores more goals per game than all but three teams in the NHL. Saros has been fantastic, but Darcy Kuemper has been slightly superior. Nashville has a great power play, but Colorado's is only 0.4 percent less effective, while the penalty kills also appear to be a wash.
This is a "proud to be here" series for the Predators, and it things shake out the way that they should, this could be one of the shorter first-round matchups in the coming days.
Prediction: Avalanche in five
Dallas Stars vs. Calgary Flames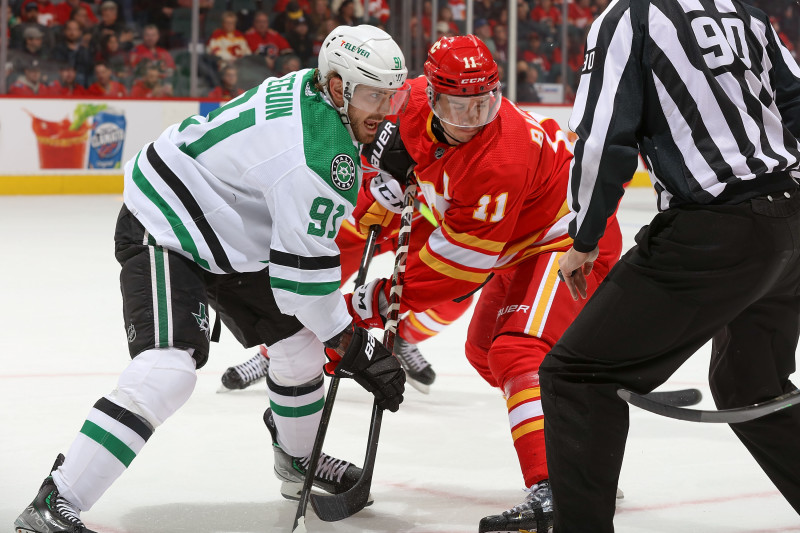 Gerry Thomas/NHLI via Getty Images
It's the second time in three years that the Calgary Flames and Dallas Stars have met in the postseason. In 2020, the Stars finished slightly higher than the Flames in the standings and took their first-round series in six games.
This year, the Flames dominated the Pacific Division with 111 points. It took the Stars until the final week of the regular season to secure a wild-card berth with 98 points.
Flames forwards Johnny Gaudreau, Matthew Tkachuk, Elias Lindholm and Andrew Mangiapane enjoyed career-high performances under head coach Darryl Sutter. Gaudreau (115 points) and Tkachuk (104) finished among the NHL's top-10 scorers.
The Stars got reliable production from Joe Pavelski (81 points), Roope Hintz (72 points) and super sophomore Jason Robertson, who finished with 79 points and a team-high 41 goals. However, veteran leaders Tyler Seguin (49 points) and Jamie Benn (46 points) are clearly on the decline.
Calgary has several quality defensemen in Noah Hanifin, Rasmus Andersson and Oliver Kylington. Nevertheless, they lack the playoff experience of Stars blueliners Miro Heiskanen, Esa Lindell, John Klingberg and Ryan Suter.
Flames goaltender Jacob Markstrom had a league-leading nine shutouts and was among the leaders in wins with 37. Stars sophomore Jake Oettinger took over the starter's job this season with a 30-win performance but lacks postseason experience.
The Flames were among the top-10 teams in goals-per-game (3.55), goals-against per game (2.51), power-play percentage (22.9) and penalty-killing (83.2). The Stars had the second-best faceoff win percentage (54.8) and were just behind the Flames on the power play (22.4).
Despite their placement in the standings, the Stars shouldn't be taken lightly. As they demonstrated two years ago, they're capable of postseason upsets. Still, the Flames' talent advantage, combined with a desire to atone for several years of playoff disappointment, should carry them to the next round.
Prediction: Flames in five
St. Louis Blues vs. Minnesota Wild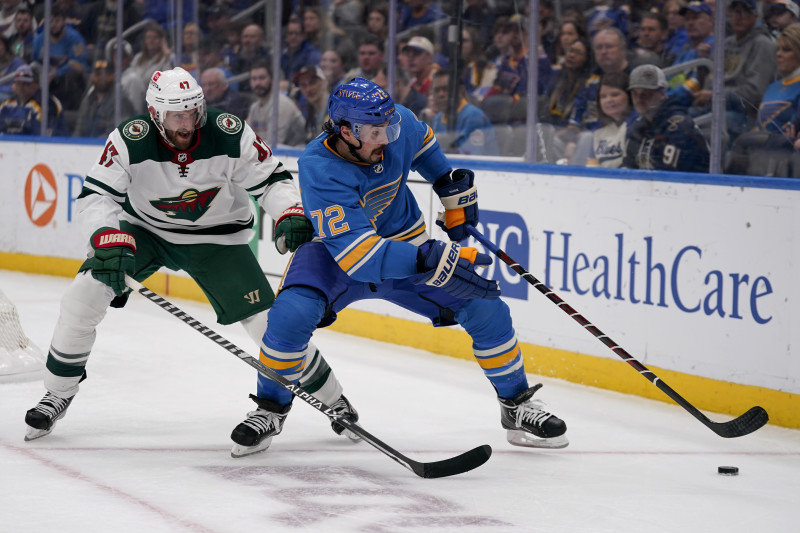 Jeff Roberson/Associated Press
Regardless of who wins, this one should be fun.
The Minnesota Wild and St. Louis Blues were evenly matched throughout the 2021-22 season, finishing just four points apart in the standings and seeing two of their three head-to-head matchups go to overtime.
St. Louis won a pair of OT decisions at home and earned a two-goal victory in a Stadium Series duel at Target Field in Minneapolis, scoring 14 regulation goals overall to Minnesota's 12. The two OT games occurred in April, but neither was started by the Wild's highest-profile trade deadline acquisition, Marc-Andre Fleury.
As it turns out, the 37-year-old "Flower" is likely to be the most important player in this series.
He was 9-2 in 11 starts after arriving from Chicago and seems likely to be the go-to starter once the postseason begins. He's won nine or more games in five separate playoff runs, including 16 while backstopping Pittsburgh to its first Crosby-era championship in 2009.
The Blues aren't far removed from a deep playoff run of their own—winning the Cup three years ago—and goaltender Jordan Binnington remains on the roster as a holdover from that group. But the now-28-year-old lost as many as he won while going 18-14-4 across 37 starts this season and shares the starting role with Ville Husso, who had better regular-season numbers but hasn't played a playoff minute.
Perhaps a balanced St. Louis offense that boasts the point-per-game likes of Vladimir Tarasenko (34 goals, 48 assists), Robert Thomas (20 goals, 57 assists), Pavel Buchnevich (30 goals, 46 assists) and Jordan Kyrou (27 goals, 48 assists) will make it academic. But when a game's on the line—and given their series this season, one or more will be—it'll be Minnesota's Dean Evason breathing easier behind the bench.
Fleury steals a game. Kirill Kaprizov breaks another open. The Wild reach Round 2.
Prediction: Wild in six
 Los Angeles Kings vs. Edmonton Oilers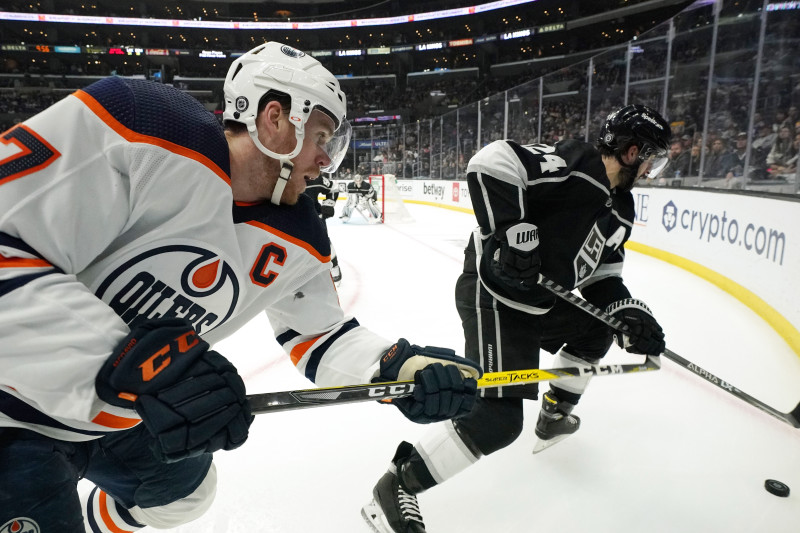 Mark J. Terrill/Associated Press
Folks, check in on your Edmonton Oilers fan friends.
It's a lock that they're a bit stressed at the moment.
Anyone who follows the NHL with regularity knows Edmonton boasts two players who've won both an NHL scoring title and an MVP, yet neither has won more than one playoff series. (That's Connor McDavid and Leon Draisaitl, for those unaware.)
In fact, the Oilers have precisely one series win since 2006, that magical spring when they reached the Western Conference playoffs as a No. 8 seed and made it all the way to Game 7 of the Stanley Cup Final—thanks largely to the play of former MVP Chris Pronger—before losing to the Carolina Hurricanes.
It's been a big uglier since. And rarely uglier than last spring, when Edmonton matched up with the Winnipeg Jets, against whom they'd gone 7-2 in the regular season and were bounced in four straight.
So even though a first-round matchup with the Los Angeles Kings this time around looks favorable…well, you know.
Los Angeles was only 1-2-1 in four games with the Oilers but scored 12 goals to the Oilers' 13 across the series.
The loss of Drew Doughty to a wrist injury hurts, but the Kings could be buoyed by news that Dustin Brown will retire after one final postseason run.
Now 37, Brown played on Cup winners in 2012 and 2014 and has 19 goals in 85 career playoff games.
Another two-time Cup winner, center Anze Kopitar, led Los Angeles with 67 points in 81 games, while young winger Adrian Kempe emerged with a career-high 35 goals.
Still, it's all about the goaltending when it comes to facing the likes of McDavid and Draisaitl, and yet another dual-Cup champion, Jonathan Quick, won his last five starts in April while allowing eight goals on 129 shots (.938 save percentage).
Can Quick do enough to keep things close while coach Todd MacLellan, who was behind the Oilers' bench when they last won a series, concocts a master plan to slow Edmonton down? Maybe.
But for the sake of those Oiler fan friends, you might want to root otherwise.
Prediction: Oilers in six
– Lyle Fitzsimmons